David Sabastian Is on Fire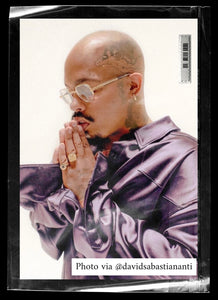 David Sabastian
 is someone who you want to get to know: fast. He captures our attention quickly with his new single 
America on Fire
.
Opening up the track with Church music, such as the organ, he gets ready to break the traditional norms, bringing a special twist. He incorporates impactful lyrics throughout this track. Every single word is fundamental to David's multiple messages. 
These are some of the lyrics that really stuck with us:
1. "Your melanin comes with superpowers." 
2. "If you believe that God is in you, then no weapon formed against you can ever get you." 
3. "Outside feels like the zombie apocalypse." 
4. "It gon' get better as long as we in this together." 
5. "The dollar is collapsing...keep dancing." 
6. "Love is the answer. Fear is a cancer." 
The lyrics are not the only element that stand out in this single. The musical change, tone, and delivery throughout the track are extremely noteworthy. David touches almost every single aspect in society. Listen and you'll feel the power. 
Listen to America on Fire here and watch the video below: