Kiran The Nomad Drops Off "Nights Before Party" The EP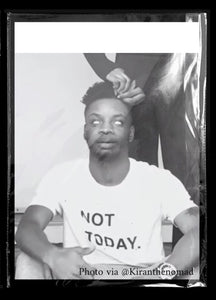 Kiran The Nomad has just released an outstanding project called Nights Before Party. In this seven-track album, we witness nothing less than pure excellence. 
While he is an absolutely talented artist when he records solo, there are many features in this album that only add on to this project, taking it to another level. Featuring artists such as Jon Swaii and Dende, we are able to hear Kiran The Nomad's talent when combined with other talented artists. For example, in Grateful for My Opps, we hear Kiran The Nomad and the talented Jon Swaii add soul-stirring lyrics that show appreciation for this life even though there are many people who are praying for their downfall. When one is trying to succeed, it is clear that there will be many who will try to stand in their way. They make it clear that they won't let anything come in the way of their passion! Their wordplay is so intense that we have no choice but to stop and listen. In Roses, Bairi, Dende, and Kiran perfectly blend their talents together over a smooth beat in order to display a powerful message to the scene. Rapping with raw emotion and vulnerability, we see another side to these two artists that is magnetic. 
Outside of the features, Kiran The Nomad also really does his thing on Jaded. Rhyming words left and right, his smooth voice sets the tone for this track to be played on a late night when one just wants to vibe to some chill music. He raps, "Searching through my soul...trying to find a woman who is as honest as this." These are just a few words that make it clear that it took a lot of deep thought to complete this track. The light sounds fill the room up with a soft feeling, allowing us to unwind and put our thoughts at ease.
Kiran The Nomad has even more talent to showcase soon with some more music coming up. In the meantime, listen to Nights Before Party. 
Written by: Margaritë Camaj