Kiran The Nomad Shines With A Star-Studded Cast On Nights Before Party Vol. 2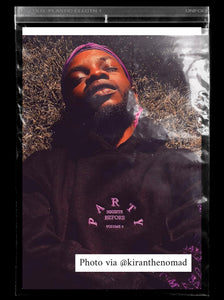 September 15th is a date to remember for years to come. 
Kiran The Nomad
 drops his new project: 
Nights Before Party Vol.2
. 
Collaborating with many powerful voices, Kiran brings: Bairi, Jazmine, Greo, Lilly Aviana, Dende, Kiraly Payne, Lacey Jackson, Jon Swaii, Zaay, Cam Hayden and others to the table, where they all provide filling meals. There is not one artist who doesn't move 
Nights Before Party Vol.2
in such an impactful way. Being that they all uniquely contribute something special to this project, each and every single artist beautifully touches our spirits through the music. 
It is clear that Kiran switches up his delivery with this project, and has a tone that is guaranteed to make us stop and listen in awe. We can so vividly hear his passion with such clarity, almost as if he holds his heart and mind in his hand for all of us to witness. Valley of Shadows, Die Today, and Out Here create a magnetic force, as Kiran's impeccable flow floods the speakers. Granny/Lord Have Mercy and Everything is Everything are also two intense forces on this project, as we enter and experience Kiran's world. With fiery production from Yaeygo & Cash, you will all fall in love with every layer on Nights Before Party Vol.2. 
Listen to Nights Before Party Vol. 2 here