Rob Markman Like You've Never Heard Him Before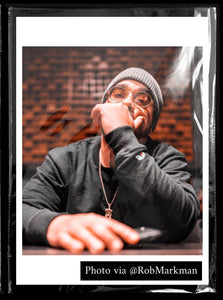 Widely-known Hip-Hop Journalist and Vice President of Content Strategy at Genius, Rob Markman is also an extremely talented artist that lives with purpose. Dropping If You Don't Regret It, he shakes the entire industry up with his powerful lyricism.
Bringing back real NY Hip-Hop, full of boom bap beats, Rob Markman really takes us back to a whole other era while balancing it out with a modern twist at the same time.  Incorporating optimism and motivation on every single track, he opens up this album with Don't You Worry, thanking God for everything he has received to this day. He displayed his intelligent wordplay rapping, "The pen strong, all these different elements." On Easy Money Sniper, the words "Did my 10,000 hours...just had to work. It don't matter, keep going, that's how passion works. Everything I dream, I'mma write down" Rob shows his lyrical skills and the experience that came with all the years. It is evident that Rob has worked hard to get to his current destination, but he also shows that you can indeed be multifaceted in this industry and reach great heights. The track On God and every single one following again shows that Rob's pen-game is extremely strong, integrating intricate wordplay. Listen to this album carefully. If You Don't, You'll Regret It (Pun Intended). 
Listen to If You Don't You'll Regret It here. 
Written by: Margaritë Camaj