TheRealFlexGod Blends a Variety of Styles in Crafting a Masterful EP, 'Take It or Leave It'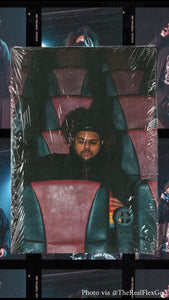 Houston MC TheRealFlexGod, also known more succinctly as "Flex," has steadily been making a name for himself over the past few years. The young artist is only 22 years old, but already possesses a style, confidence, and charisma that emanates the level of savvy you'd typically expect of veterans within the hip-hop and r&b genres. This craftsmanship is evident when listening to Take It or Leave It. The production quality is crisp, Flex flows seamlessly from one track to another, the blend between the differing vibes is wonderful, and it's a quick enough listen that it leaves you wanting more.
Although this is his debut EP, he's no stranger to hustle and the success he's enjoyed so far hasn't come overnight. He's taken an organic and grassroots approach to building a dedicated, authentic following. Xavier Wulf's Hollow Squad Tour last summer presented Flex with an opportunity to open up for the Memphis native in cities like Dallas and San Antonio, Texas, and Los Angeles, Calif.
Take It or Leave It is a work that stands on its own two feet, boasting only one feature, on the track "Tension." Fellow Houston-based artist dontaskgen lends a smooth cadence to the record, while Flex discusses the time he's spent on the sidelines desperately waiting for his moment to shine; he equates himself to a star player coming off the bench to make his mark on the game.
"Been on the bench and that shit felt like a millennium,
Was moving like the pendulum swinging,
I couldn't catch a fucking break inside my cranium, fuck it I'm on the court feel like Ginobli"
That last bit references Manu Ginobli, four-time NBA champion and former Sixth Man of the Year for the San Antonio Spurs. It's evident the impact that sports had on Flex in his youth and it is telling that he equates himself with a player of Ginobli's ilk. The Argentinian-born phenom was a gritty do-it-all type of player for the Spurs and arguably the heart and soul of the franchise for many years. This comparison lends itself to Flex's versatility in terms of his style, flow, and ability to collaborate with others. This tenacious mindset is also explicitly referenced earlier in "Off the Bench."
Flex begins sewing seeds for the project's theme in the "Intro," wherein an instance of refreshing introspection, he opens himself up to the listener and speaks about his inner conflicts, personal relationships, and the hope that he can build a better life for himself, using music as his vehicle to do so. He mentions using the microphone as a sort of therapy to free his mind and clear his thoughts, articulating that the only time he is truly comfortable expressing himself is when he's holding the mic. The comfortability and ease with which he delivers bar after bar speaks to that truth.
He especially stands out on the track "Pride B4 Destruction," where he finds his groove and leans heavily into it. It's a quick, melodic track that you can't help but bounce along to. Flex flexes his muscle (no pun intended) on this record and expresses his bravado expertly. "Because of You" provides him with the platform to reveal himself as a storyteller, giving the listener a peek into some of the heartbreak that has shaped him into the artist he is today and the emotion that continues to drive him forward.
All things considered, TheRealFlexGod has put together a work of art in his formal debut and firmly establishes himself as a force to be reckoned with for the foreseeable future. This project showcases star potential and begs the question "when," not "if," as it pertains to his mainstream success.
Listen to Take It or Leave It on Apple or Spotify. 
By: Nick Fequiere