Topaz Jones Drops a Classic in DGTYM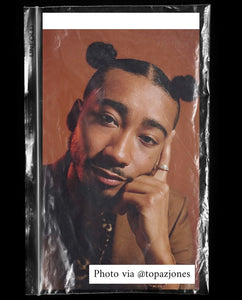 Topaz Jones
drops his album 
Don't Go Tellin' Your Momma
, along with his short film. Both the short film and this album are a classic.
New Jersey is undeniably filled with a pool of talented people and Topaz is one of them. Opening up the album with the track
Mirror
, Topaz Jones brilliantly sets the theme for the entire album. We automatically see the incredible lyricism and the introspection that is intertwined throughout every word on
Don't Go Tellin' Your Momma
. It is clever how he titled the first track
Mirror
because it is almost as if Topaz Jones holds one up, not only towards himself, spilling his soul, but in turn, he also forces us to look internally and examine ourselves too. In
Baba 70S
, Topaz Jones incorporates some old school beats into the sound. His projection is harsher, yet gentle at the same time because it holds truth. His delivery speaks of the pain in his soul, reflecting on the experiences that he went through. From the intricate lyricism to the intriguing sounds, Topaz Jones creates a work of art. Listen to this album and pick up a few gems. 
Listen to Don't Go Tellin' Your Momma
here
and watch the short film below.
Written by: Margaritë Camaj