Lex Lavo is Back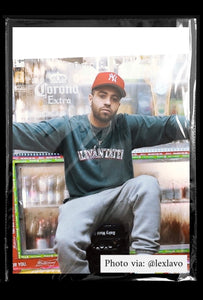 Representin' Spanish Harlem
This is LEX LAVO's BEEN iLL SESSION
When is the last time you dropped a project before Bodega Dreams 3?
I released my last project Morals Values Principles (MVP) Circa 2014.
If you could choose 5 words to describe Bodega Dreams 3, what would they be?
Diverse, Motivational, Refreshing, Nostalgic, Versatile.
When did you start creating this album and why did you choose to release it in 2020?
I started recording BD3 in 2016, but due to the unfortunate circumstances of me getting incarcerated in late 2016, I inevitably pushed it back to 2020. 
What inspired you the most when you were working on this project?
The things that I was going through in my life at the time that ultimately helped me create the music you heard on the project. I was at a very low point in my life, but creating music always motivated me to push forward.
New York seems to be a heavy theme in this project, particularly Harlem. How has your environment shaped your life and you as an artist?
My environment is heavily cultured and populated with Latinos. So even tho I wasn't raised in my native country of Puerto Rico, living in Spanish Harlem always made me feel like I was there and it helped me stay true to my roots and culture which made me incorporate it into my music and what you currently hear from me.
You mention loyalty a lot. What does that mean to you? How do you define loyalty? 
Loyalty is something that's rare these days. Loyalty is bigger than just supporting someone or being in their corner good, bad or indifferent. It's a bond created. It's when two or more people selflessly give into the fact that nothing or no one can break that bond created between who is involved. It's a lifetime commitment. 
What track on Bodega Dreams 3 should people listen to first? Do you recommend playing the project start to finish or playing tracks at random?
One of my stand out tracks is "Break Bread." There's a lot of sentimental meaning behind that record. BD3 Is one of those projects that you can sit from start to finish and not skip a record.
The word I think of when I play your album is "versatile." Were you aware of this and/or was it done purposely? 
Definitely. I'm very strategic on how I roll things out, so yes versatile is definitely the right word. But with hip-hop's current climate, I had to infuse a little bit of old school and modern flows to balance out the younger and old school demographic. 
Tell us something about yourself that you want a random person listening to your music to know.
My Music is for my people! I'm the voice of the voiceless 
Everybody's got a life mission. What's yours? 
I've never been asked this question. But, if I had to answer with something along those lines, I'd have to say to empower and hopefully one day see to it that my country of "Puerto Rico" gains her independence and recognition that she deserves. I implement my culture as much as I can into my music because to me it's what feels right and I want the world to see how beautiful we truly are.
When do you intend on releasing your next project?
Early 2021 🤫
Listen to Bodega Dreams 3 here
Written by: Margaritë Camaj